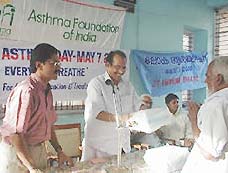 Health Minister P.Sankaran, Jothydev, Cartoonist Sukumar, Dr.Arjun
and old patient

Dr.Arjun, Dr.Subhadra(DME 2001) and Jothydev

Asthma CME- Jothydev talking on new treatment options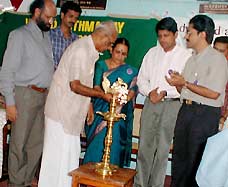 Kerala University Vice Chancellor Dr.Ekbal, K.V Surendranath ex MP,
Dr.Subhadra (DME), Dr.Arjun, Dr.Arun, Jothydev

NEAT
Noble Effort for Asthma Treatment and Education, is a Charitable Society, founded by Dr.Jothydev, to combat Asthma, which is a major disabling illness in Kerala. In Kerala it is difficult to make patients believe the fact that, newer inhalers if used properly can control asthma and the person can lead a near normal life. The Society implements its programmes with the help of benevolant contributions received from Dr.Prem Menon, USA., under the able guidance of Dr.Subhadra, (Retired Director of Medical Education) AIMS, Cochin. The CMEs are supported by pharmaceutical firms. This organisation conducts regular CMEs (Continuing Medical Education) for doctors and educational programmes for the public. Till date NEAT has donated Nebulisers and other inhalation devices to a number of hospitals, other charitable organisations and to very poor Asthma/COPD patients.
World Asthma Day was celebrated in Kerala at the capital city of Trivandrum organised by Noble Effort for Asthma Treatment and Education Charitable Society in Association with Asthma Foundation of India. A Press Conferance was conducted on May 6th by Dr. Jothydev and Dr. Arjun.
www.ginasthma.com
(
Dr.Arjun
is presently the most popular and able respiratory physician among the public and academic environment in this area. He works in SP Fort Hospital, Trivandrum) It was mainly to make the media aware of the advantages of modern Inhaler therapy which can bring out total relief in even severe Asthma patients. We also requested the media to make public aware of the adverse effects of oral medications including Steroids. The Asthma Day celebrations were inaugurated by Health Minister Shri. P.Sankaran. The function was attended by a huge crowd of asthmatics. There was a poster exhibition, free medical examination, distribution of drugs , booklets and audio cassettes. The minister donated Nebulizers, one to the Medical College Superintendent ,Dr. Mathew Thomas, one to Chest Diseases Hospital Superintendent, Dr. Rajalekhmy and two others to two very old Asthma patients.
(In the pictures you can see asthma day being celebrated in Trivandrum in consecutive years with different activities)
The Nebulizers were bought from Trivandrum utilizing the generous donation from Dr. Prem Menon, USA. (Care and Share www.careandshare.com/newsletter/Newsletter.pdf) There was a two hour interactive session with patients which also included demonstration of all the available equipments for Asthma Management. Both the electronic and the print media gave a very wide coverage for the programme and joined hands with the propagation of the theme of Modern Inhaler Therapy.